Every month of my shopping leave of absence, the "rules" [see
Without Values, What's Left?
] allow me to have one splurge purchase. Just a little something to keep me going, but without the frills that bags and bags of shopping lovelies bring.
I went for these nude frilly peep-toe t-strap pumps by GUESS.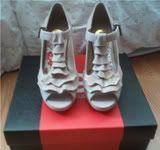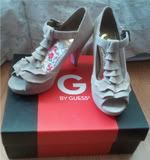 Most importantly, these shoes are actually
really
surprisingly comfortable! I can't wait for spring to be here full-time so I can enjoy them outside of my bedroom mirror.