Today we honor sound tech extraordinaire, Chris Sailor, with the
Altered
spotlight dance. Chris has been experiencing some technical difficulties of his own, suffering from a bout of sinus infection that's lasted most of the duration of filming. We all know how much it sucks to be sick during regular, low-stress days..but imagine working 18 hour days on 4 hours of sleep and a steady diet of fast food and donuts. Yes, ouch.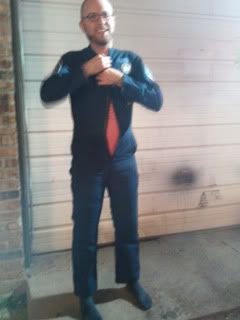 Chris, who you might remember from
Behind the Scenes of Altered: Take II
, is a willing participant in team building activities like being an extra, and driving my car (which seemingly turned into a group project, everyone has taken a turn).
**Side Note: Production Assistant, Cole Daniel, donned a similiar (if not the same) costume choice last night, playing CSI agent #2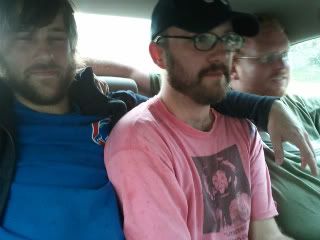 On top of his active film making duties on
Altered
, Chris holds the title of graduate student (very impressive) but what makes him stand out even slightly more is that when he came aboard this project he knew absolutely no one. I met him to exact same day and he was already bonded to the crew, it's hard to tell that any of them haven't been friends since the fifth grade. The definitely click well.
Chris does sound. This means that when everyone gets off for a skeleton crew shoot..he doesn't. He's great.