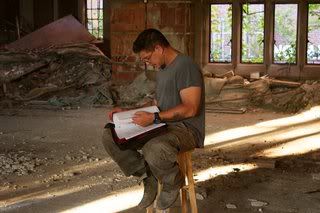 Last night,
The Altered Movie
wrapped production in Gary, IN at the epic abandoned church near 6th and Adams. This place is so dynamic that it works for everything. During our extended time scouting, prepping, staging, filming here, we've watched countless individuals and groups come off the street to get a glimpse. Everything from engagement-photo-wanting-couples to cross-dressing camera crews have been through these doors. The light is amazing during the day and there is so much you can do with it. Amongst the devastation that this building has endured over the last 30 years or so - fires, scrapers, natural hazards, etc. - it remains a beacon of artistic integrity in the community, bringing foot traffic to a city long left to dismay.
Our amazing art department deserves special props for this location in particular. The church is pretty much a blank canvas and allowed for us to be creative in new ways.
Douglas Kupferman
and his intern, Elizabeth Rawlings, transformed nothing into something under some serious time constraints. They brought their own character to every room. On top of set design, in the same department we have two awesome make-up ladies, Halli Vehrs and Deanna Bajorek, that deserve some acknowledgement. They have had their work cut out for them in the last couple of days with bloody corpses and demon murderers to dress up. Last night, they transformed a pretty stunt lady into an old maid (the stunt team was fantastic!).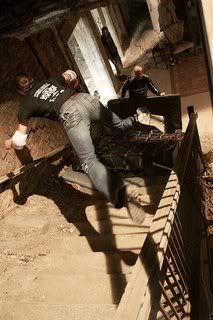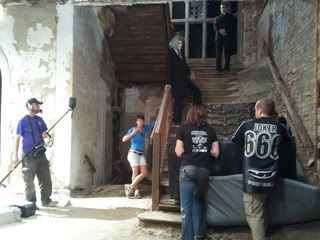 Stay tuned for more behind the scenes action right here and keep up with our adventure on
Facebook
and
Twitter
! You can also see more behind the scenes photos at
Doobious.org
run by our very own
Ace Harney
.