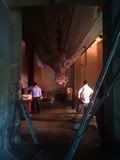 Another epic day on the set of
Altered
. We were shooting at the abandoned cement factory behind the lovely Majestic Star Casino in Gary, Indiana. The smell of perspiration and micro-dust particles mixed with something that I can only assume is acid-based, creeping down the the concrete slabs holding up the large and surprisingly scary mixer bowls. On the plus side, as a torrential downpour/tornado speed winds hit Northwest Indiana, we were in perhaps the most secure location in the area.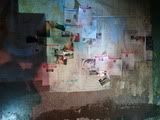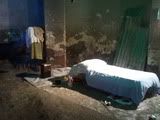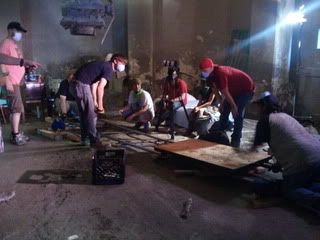 Our epic crew (
Ace Harney
,
Steven K. Greer
,
Dan Slemons
,
Jonathan Owens
,
Chris Sailor
, and P.A. Cole Daniel) set up an awesome set and made everything run smoothly. These guys blow my mind with their talent. Props also go out to
Douglas Kupferman
, our Art Director, and his assistant Elizabeth Rawlings, who are responsible for making everything look as epic as possible.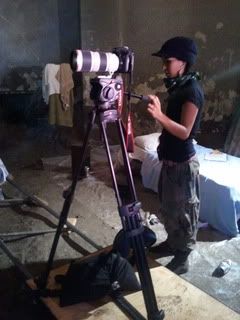 As always, Jessica 'Imoto' Harney made making movies look easy with her natural camera finesse.
*
*Side Note: Missing crew member? Yes, me, Lindsay Sperling. I didn't think it was right to use words like "epic" and "awesome" when referring to myself..well not in the company of others at least.
Stan Harrington
,
Amanda Dreschler
, and
Chris Meister
gave a profound performance in their make shift police lair that would make any director proud, like ours (
Kely McClung
). Stan's cowboy boots added just a little extra to every take.
The highlight of the day was clearly when I got to leave, airport bound, to pick up our very own serial killer
Rob Pralgo
.* But filming didn't stop for that unfortunately, so I missed the final scenes. The hard working crew and cast had a late night ahead of them and wrapped sometime well after midnight.
**Side Note: If you don't know who Rob is, you should google him. He has done a tremendous amount of work in the industry and has probably been in something that you not only have seen, but really liked. In addition, he is just a really great and talented guy.
For more information on
The Altered Movie
, follow us on our newly revived
Twitter
or on
Facebook
.
*I'm a huge Vampire Diaries fan!