We now take a break from our regularly scheduled posts for an important movie service announcement.
At the end of the day, the worst kept secret is that audiences don't flock to see movies because of the people that made them. The director will probably be acknowledged by some, maybe a producer or director of photography on larger projects, but the actors are really what gets people in the seats (or nowadays, to click "add to queue" on their Netflix or spend their hard earned dollar at Redbox).
But this is why
The Altered Movie
crew is awesome, and why you should care:
**
Side Note: I'll go in alphabetical order to not show any favoritism, so we'll start with Ace..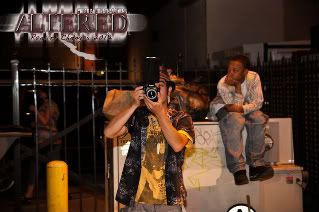 Ace Harney
(Best Boy): Ace runs the successful website
Doobious.org
("News. Art. Entertainment. Love. Exploring The World Created By Insanity.."). He is always looking to branch out and learn new things. He has a very genuine personality and brings a sense of chillness to set, even during the most stressed days, he's exceptional at keeping his cool. Ace shows his dedication time and time again, he even volunteered to be literally hit by a car for the sake of the movie, and his stunt looked amazing! He will be interviewing all the actors in the film for his website, so check them out.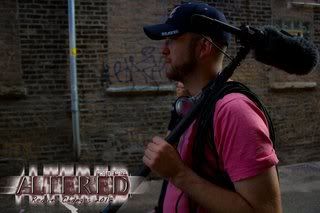 Chris Sailor
(Sound Engineer): Chris is a graduate student at Georgia State University in Atlanta where he's majoring in production. He's always willing to go the extra mile and pitch in, and he's just legitimately nice to be around. His light-hearted nature makes him a joy to work with and he plays nice with others. You can always count of him to cheer you up. Plus, he's been bruised on set more than once, and never complains.
Dan Slemons
(Director of Photography): Dan is dope. Seriously, he is so incredibly knowledgeable in the field of production (and a magnitude of others). He is well respected in his craft and in addition, builds most of his own equipment with his mad master welding skills. Dan works full-time at a university in Atlanta in the audio visual department.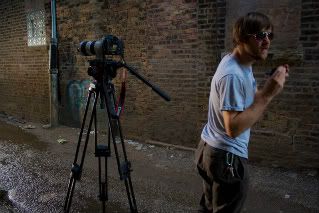 Jonathan Owens
(Assistant Camera): Jonathan owns and operates
Chameleon Red Photography
in Atlanta. He does a lot of freelance event work and takes AMAZING photos. His eye for the artistic in even the simplest of things makes his work brilliant, and his travels have brought him home with extraordinary photographic evidence of that. Plus, he is incredibly funny and personable. He formerly worked in the music industry managing a venue and has an extensive knowledge of music. He's also an epic storyteller.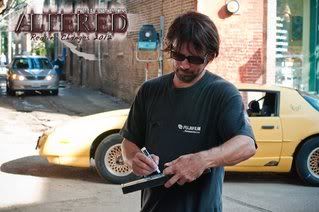 Steven K. Greer
(Key Grip): Steve has been in the business for a long time. He has incredible insight and great stories from over the years. Steve brings so much to the crew, including comic relief which is always appreciated on set. He loves what he does and it shows in his work. He can make anyone smile and is never afraid to laugh at himself (which is a particularly awesome quality).
Cole Mellendorf (Production Assistant): Cole is a former Columbia College student and still resides in Chicago. He's eager to learn and has shown everyone that he wants to be there. He literally got off a train in Gary, IN and walked 4 blocks alone in the middle of the night, on the wrong side of the tracks, so he wouldn't be late for an early call time.
I'm
really lucky
to be part of this
fantastimazing
crew, and they may not be branded the official "talent" but are most certainly
incredibly talented
. Keep watching as I spotlight, each and every one of them in upcoming blog posts.