This weekend cameras were still rolling on
Altered
. Thursday night, we had a late call time. Set was what used to be the atrium for a school auditorium in Gary, IN around the downtown area, now it's an abandoned half of a building slowly crumbling away (a result of arson, and unable to be rebuilt due to budget cuts. I'm sure this was a gorgeous building at one time, complete with marble staircases and adorned in engravings). Nonetheless, through the lens of a camera it still looks quite epic. We had to light the site from scratch because a)it was night and b)abandoned building = no working light switch (in fact, I'm pretty sure someone stole the light switches that used to be there, a sad reality indeed).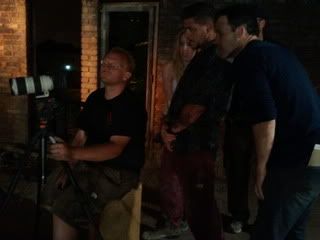 DP
Dan Slemons
and Key Grip
Steven K. Greer
deserve special acknowledgement for their early arrival to set to make this all happen. Our director,
Kely McClung
stepped in for a close-up, and we had some great extras make their way to set just in time to be part of movie magic.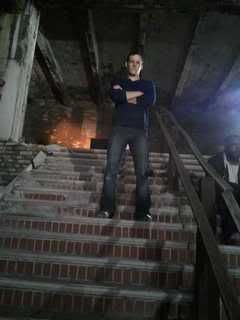 Starlett,
Amanda Dreschler
got a little carried away (literally) and we all enjoyed some direction from
Rob Pralgo
(Vampire Diaries). This is the first time we had a guest director on set, and it was nice to see a different angle behind the camera (but we still love you most, Kely).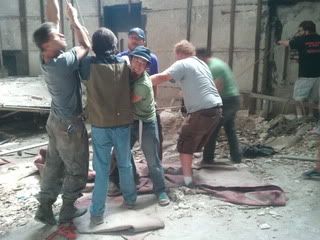 Saturday and Sunday we filmed in the abandoned Methodist church in Downtown, Gary. This is an absolutely epic location. Michael Bay shot here last summer for Transformers 3, and the latest Nightmare on Elm Street reboot as well. The lighting is great and it really lends itself well to a variety of motifs. Otherwise, it was a closed set ,which means details are under wraps (you'll have to see the movie for a glimpse at those intense scenes). But I'll leave you with something to ponder, there was some heavy lifting involved.
Stay tuned for more behind the scenes action right here and keep up with our adventure on
Facebook
and
Twitter
! You can also see more behind the scenes photos at Doobious.org run by our very own Ace Harney.