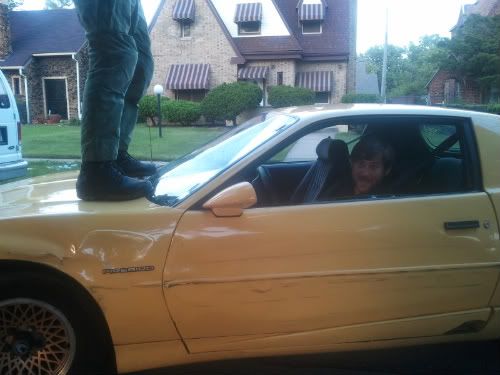 Today's
Altered
Spotlight darling of the day comes straight from set.
Jonathan Owens
put down his reins as photo god-in-training to fulfill his lifelong dream of being a used-sports-car-stunt-driver (well probably). Jonathan was forced to fight with his inner-hypochondriac demon when the real stunt man (that he hit with his ferociously kitty-cat like Firebird) smashed the windshield in front of his face. Yes, that's right
in front of his face
folks, he is truly stunt-tastic. Jonathan remained unscathed but unfortunately the yellow beauty of a car (well..in it's day I'm sure) wasn't that lucky and will be heading to that bright light in the sky this very afternoon. (And by that bright light, I mean the bright light that the junk yard had installed, I can't be sure, but most likely, probably to showcase their awesome array of non-functioning semi-trashed automobile-like selection.)
**Side Note: Jonathan wasn't the only crew member turned stunter this afternoon. O no. Ace Harney let us hit him with the same car. End Side Note.
Earlier that day, if you were in the right place at the right time (which you probably weren't), you could see Jonathan showing off his climbing skills. He transcended a tower of scaffolding high above a high school parking lot with a cat-like ease. When he reached the top he courageously posed for not one, but TWO band pics with fellow rock n' roll aficionados
Dan Slemons
,
Steven K. Greer
, and
Chris Sailor
. If I had to give this band a name, my first choice is 'The Monikers', but '4 Monkey's' also seems appropriate.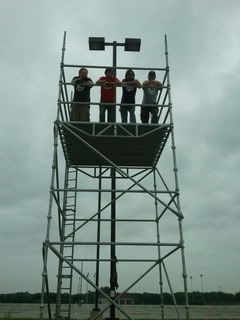 It's Jonathan's spunky personality that really puts him ahead of the crowd. This southern gem brings a light hearted, but dedicated mojo to set. This is also why if there was an official ranking for men, he would score exceptionally high.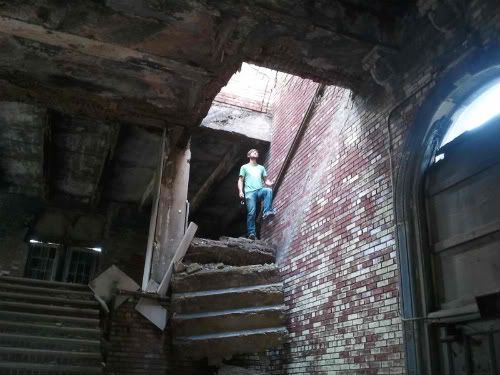 Check out Jonathan's photography conveniently located at
Chameleon Red Photography
, he truly has a brilliant eye that is evident in all of his work. Make sure to visit his blog while you're there for excellent stories of the events he has covered.